North Raleigh Chiropractor Reviews
What others say about their experience with chiropractic care can help you make the right health care choice. Enjoy a selection of patient reviews written about Chiropractic Works below!
Yours in Health!
Susan was wonderful! Super sweet and friendly. Dr. Murray knew I was nervous and made sure to take his time to explain everything. What a great team.

At a time when I needed them most, they came through for me beyond my expectations.

Dr. Murray actually takes the time to listen. He answers every question or concern you have in an honest and kind way. I've been three times now and I'm already starting to feel so much better! 10/10 would recommend to anyone looking for a chiropractor!

As new patients, we felt very welcomed right from the start. The phone call from Dr. Murray was the first contact that introduced us to the practice. I was so encouraged to find out that supplements are available to buy right in the office or directly online.

Lauren was so helpful in walking us through the insurance process and explaining how scheduling works. We're also excited we have access to a massage therapist as an addition to our treatments. Thank you!

My care and treatment were very positive and helpful. Staff is quite courteous in helping me with my handicapped condition also. Very nice. Quite knowledgeable about various treatment for my needs.

I had seen three other Chiropractors prior and they all used scare tactics to get me to sign up. I did not feel this here. Very helpful and supportive.

Dr. Murray and Susan provide excellent patient care. I have never felt better because of the chiropractic care I have received.
---
Very Very Pleased!
Had two sessions with Dr. Murray. Specific issue was effectively addressed and cause of intermittent pain was relieved. Plan is to return monthly or more frequently if needed to manage overall lower back issues. Very pleased to have found Dr. Murray and to be his patient for ongoing chiropractic care
~ Arthur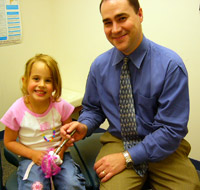 Chronic Ear Infections
When we first visited Dr. Murray, we were convinced nothing could help our daughter's chronic ear infections. After months of antibiotics and ear tube surgery, she still had recurrent infections.
Dr. Murray's compassionate, sensible approach to her health resulted in almost instant improvement. Since she began treatment under Dr. Murray's care, she has not had a single ear infection. We would recommend Chiropractic Works to any parent!
~ Memsy
My Search Is Over
They make you feel at ease. No high pressure sales, just a conversation and plan to get you feeling better. He does such a great job of explaining everything and making sure you feel comfortable every step of the way. If you are looking for a Chiropractor, your search is over!! You will not be disappointed with this team!!
~ Michelle
An Essential Part of My Well-Being
Dr. Murray and staff are friendly and professional. The office equipment is wonderful especially the rolling tables, I have had existing back and arm issues for years and I find their services an essential part of my well-being.
~ Sonja
No One Better!
I am very pleased with al my visits so far. Dr. Murray is really nice. Susan is so flexible in re-scheduling my appts. when I have to work late or adjust appt. times. I was very lucky to get an appt. so quickly, and right around the corner where I live. I highly recommend Chiropractic Works. I can't think of a better experience with a chiropractor.
~ Suzanne
An Essential Part of My Well-Being
Dr. Murray and staff are friendly and professional. The office equipment is wonderful especially the rolling tables, I have had existing back and arm issues for years and I find their services an essential part of my well-being.
~ Sonja
A Great Doctor and Team
Dr. Murray and the staff helped me go from not walking with back problems to walking again. If you are having issues please give them a call and see if he can help you! Great doctor and team.
~ Tina
I Always Feel Great After Leaving the Office
Dr. Murray is fantastic. He is very knowledgeable and supportive and overall very helpful! I always feel great after leaving his office. I highly recommend this practice to anyone looking for a quality chiropractor in the Raleigh area.
~ Laura
He Genuinely Cares & Takes the Time to Listen
I'm very grateful to Dr. Randy and his staff for working me into their schedule at the last minute. Dr. Randy is very knowledgeable and extremely thorough. He genuinely cares and takes the time to listen. When I arrived I was in intense pain. After seeing Dr. Randy I felt much better!
~ Tina
Feeling Improvement After Just 2 Visits
I saw the results my wife had with her back issues and that convinced me to try Dr Murray. I am very happy with his plan for treatment and after just 2 visits I already feel some improvement. Looking forward to a 'better back'.
~ James
Very Knowledgeable and Detailed
First-time patient and was very pleased with Dr. Randy, he was very knowledgeable about everything and very detailed in the information he gave me and Susan was very pleasant too. Glad I choose this practice.
~ Cassandra
Personable, Friendly, Caring
Dr. Murray was exceptional. He took time to listen, observe and explain. The office was accommodating seeing me the same day and really reduced my discomfort. Personable, friendly, caring, and most of all extremely knowledgeable.
~ Raquel
I am a Believer Now!
I had never seen a chiropractor before, having been in the medical field for many years, I guess I had less than a positive concept about this type of treatment. I had severe sciatica that was not responsive to drugs or PT. At that point, it was either take a terminal dose of narcotics or try this method. I think this was a better choice than taking 30 dilaudids. Thanks – I feel better than I have for at least 10 years. I am a believer now!
~ Robert
Horrible Pain
Dr. Murray,
I owe so much to you and your team. Without your expertise who knows how long I may have gone on misdiagnosed.
Throughout my recovery, you were positive and realistic. Most of all you made sense to why I was in pain and were compassionate, something I did not find with several of the doctors I saw during my sports injury and throughout my recovery.
I also want to thank your staff for their patience with my schedule, and the flexibility they gave me with last minute appointments. Thank you, Debbie and Sarah.
I have many times and will continue to recommend you to anyone who needs pain relief. I know it worked for me.
~ Laurie
A Comfortable Chiropractor
The first thing I did when I came to Raleigh about four years ago was looking for a chiropractor. Not just any chiropractor, but someone I could feel comfortable with. Dr. Randy Murray is that chiropractor.
Before I came here I was having lots of problems with low back pain and keeping the adjustments, which meant I was going for therapy every two weeks. Dr. Murray began treating me once a week, then every two weeks, every three weeks until it became once a month. Those treatments, over time, took several months. His goal and my goal were once a month visits to maintain the best health. I learned that it was important to make an appointment and go in for therapy at the first sign of being out of adjustment. That practice has prevented extended pain and discomfort.
Dr. Murray tries his best to be available on short notice, especially if there is any pain. He is a caring doctor who takes an interest in his patients and is willing to listen to their concerns. I always feel comfortable with him. I really feel fortunate to have met him and appreciate having him as part of my overall health plan.
If any of what I have said resonates with you. Dr. Murray is the chiropractor for you.
~ Clotilde
Wonderful Chiropractor
Dear Dr. Murray and Everyone at Chiropractic Works,
Thank you all for being so nice and helpful while I was in Raleigh. And Dr. Murray, thank you especially for introducing me to the world of chiropractors! Now I know what I've been missing all these years!! I find myself wanting to have a chiropractic adjustment at least once a week! Also, I made sure to recommend your practice to everyone I met and worked with in Raleigh.
~ Simrun
Worth Your Time & Money
Dr. Murray is one of the very few chiropractors that can help me with my knee issues. I've seen many different chiropractors over the years, but none of them really take the time to help me like Dr. Murray does. He explained to my way I am having issues, what I can do to improve it outside the appointments and how to use kinesiology tape to support my knee.
I think he might be the first chiropractor that actually checks if I feel better after the adjustment. Strange as it sounds, other chiropractors adjusted me in the past and just assumed it was good and kept doing the same adjustment, even if I told them I did not feel better.
Definitely go see Dr. Murray, it will be worth your time and money!
~ Jo T.
---
Have a review you want to add? Post your review about Chiropractic Works for others to see! Then, contact us to schedule a time to come visit us.

Reviews Chiropractic Works | (919) 865-6900